Radio Portfolio
Click a radio show to jump to the description:
Peter Laufer is an innovator and specialist in bringing magazine content to speech radio. His clients include the National Geographic Society, Mother Jones and Washington Monthly. He is a consultant to speech-based radio stations in North America and Europe. He launched the first American-style – but German-language – talk radio station in Germany, and the first American-style – but Dutch-language – talk radio station in the Netherlands.
To find out more about the type of radio programs Laufer produces, please click on the links below:
National Geographic: Peter Laufer created and was the long-time anchor of the shows "National Geographic World Talk" and the "National Geographic Minute." XM Satellite Radio is one of the outlets that aired "National Geographic World Talk" on its public radio channel. Program Manager Scott Walterman says, "We love having 'National Geographic World Talk' on XM Satellite Radio. It's such a strong addition to our public radio channel. National Geographic's world-wide brand speaks for itself. The radio show captures its essence and translates the global reach of the National Geographic Society to our listeners." Walterman says he's pleased Laufer's program brought to XM "the unique perspective of this prestigious organization."
Listen to the billboard of one of Peter Laufer's "National Geographic World Talk" shows:
Billboard: Introduction to the Show
Segment 1: Hear Peter Laufer talk with an underwater photographer on one of his "National Geographic World" Talk shows.
Segment 2: Hear Peter Laufer talk with and elephant vocalization expert on one of his "National Geographic World Talk" shows.
Segment 3: Hear Peter Laufer talk with an expert on Global Warning on one of his "National Geographic World Talk" shows.
The key to the success of these shows that Peter Laufer conceived, developed, and created for the National Geographic Society is his conversational approach to explaining complex material. His informed personable interaction with the world's leading explorers, scientists, and adventurers brings their work to everyman.
Washington Monthly: "Washington Monthly on the Radio": Peter Laufer is co-anchor of "Washington Monthly on the Radio," with Markos Kounalakis. The popular program of politics and culture debuted in 2006 on "The Quake" in San Francisco and WWRC in Washington D.C. It was heard nationwide on XM satellite radio on the XM POTUS '08 channel and on terrestrial station in major markets throughout the United States, including Clear Channel's Green 960 in San Francisco. Kounalakis, as publisher of Washington Monthly and the program's co-anchor says about its launch and success, "Peter Laufer conceived, produced, and continues to direct our nationally syndicated and satellite broadcast weekly program. He is a pro." The two co-authored Hope Is a Tattered Flag, published in 2008 by PoliPoint, an anthology of conversations from the radio show, which is on hiatus.
Mother Jones Radio: Peter Laufer designed "Mother Jones Radio" and served the project as a consultant and periodic show host. Jay Harris, Mother Jones publisher and "Mother Jones Radio" executive producer says, "Peter Laufer is a radio pro with a veteran's command of the medium, great people skills, and deft instincts for how to translate print reporting into exciting radio. When 'Mother Jones Radio' needed to hurry from vague notion to weekly broadcasts, Peter worked with us at every step, from concept and contracts to talent and production. We're very pleased with the results and our listeners are, too."
The Business Shrink: Peter Laufer designed the nationwide radio show "The Business Shrink," and served as the show announcer.  Entrepreneur Peter Morris, the show host says, "Peter Laufer took an idea, built and trained a staff, and in a few months created a radio show heard across the country. After over three years on the radio, he's helped me repurpose the stellar content we've developed, migrating it into a series of Business Shrink books published by Adams Media. As the Business Shrink, I can say with authority, Peter Laufer knows radio inside and out, and the fact that he loves radio guarantees that the shows he creates sizzle the airwaves."
Newstalk 93.6: Peter Laufer was the founding program director of Newstalk 93.6, the first American-style and German-language talk radio station in Germany. Until the station launched, the 24-hour telephone-based and news-oriented talk radio format was unknown in Germany. Laufer recruited the hosts and producers, trained them during a six-week intensive course, and unleashed the radio station in 1996. Twenty minutes after the Berlin mayor hit the "ON AIR" switch, the station received its first call from the audience, proving to the skeptical German radio industry that this unique form of American cultural imperialism would thrive in their midst. "As the founder and general manager of Newstalk 93.6 Berlin," writes Dr. Claudio Funke, "I was glad to get Peter Laufer under contract. Together we built the radio station and Peter Laufer worked out the programming after researching the Berlin/Brandenburg radio market. He put together an excellent team of highly motivated journalists to create with him the first newstalk station in Germany. We all learned a lot from him, and his reputation in the German radio scene is high. We thank him for the effective and friendly cooperation and for having a lot of fun during the process."
Talk Radio 1395: Peter Laufer launched Talk Radio 1395 AM in Amsterdam, where he served the station as consultant and staff trainer. Talk Radio went on the air shortly after Newstalk in Berlin, and it was the first American-style and Dutch-language talk radio station in the Netherlands. A free–wheeling forum for the exchange of ideas and experimentation in radio arts, Talk Radio 1395 electrified the Amsterdam radio dial with controversy.
"When the idea to create a talk radio station in Holland emerged, I and other members of the staff merely had experience with music radio," recalls Martijn Roos the program director of TalkRadio 1395 AM. "Talkradio was a totally new phenomenon to the Netherlands. Basically we had no idea what we were doing. Therefore we were extremely lucky to be able to contract Peter Laufer. His unique communication skills, humor, sharp analysis. and — above all — his ability to always find a new angle and take us beyond the horizon, turned TalkRadio 1395 into one of the most exiting radio stations of the country. The work Peter Laufer did was essential. He had us eat, drink, sweat and dream talk radio. I'm convinced the station would not have been able to exist without his coaching."
TalkSport.net: Peter Laufer served as consultant to talkSPORT in London and its previous incarnation, Talk Radio. While working with Talk Radio in London, Laufer coached morning host Nick Ferrari, who now stars at LBC in London. About Laufer's work, Ferrari says, "Peter Laufer is a radio guru. His knowledge is encompassing, his style pertinent yet relaxing, his patience extraordinary and his humour almost as good as a Brit's! Whatever I might have achieved in this bizarre trade, much is owed to Peter."
Internews: Peter Laufer conducted an in-depth study of Mexican media funded by the Packard Foundation. Internews President David Hoffman called Laufer's Mexico study, "The best country report I've read in my twenty years in this business."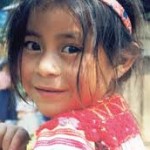 KSAN: Peter Laufer first went on the air at the legendary San Francisco radio station KSAN as part of its award-winning news department. He moved to KSAN after tours of duty at KNEW and KSFO, and proceeded to host talk shows and report the news at — among other radio stations — KGO and KNBR in San Francisco, KABC in Los Angeles, and WWRC in Washington, DC, where he served as news and program director. While at KNEW, he received this official station memorandum, dated October 3, 1967, from his friend and mentor, news director Gil Haar, "What you do with your hair — or fail to do with it — is your business and I do not presume to tell you what to do with it. But as long as it is at its present length, please avoid going outside on stories for the station. If and when you decide to cut your hair back to a reasonable length, you may go out again."
And in the picture below is that hair, blowing in the wind high atop the Argonaut Building in San Francisco, headquarters in the early 1970s for KSAN. Laufer (right) is with his KSAN Gnus colleagues David McQueen (left, of course) and Greg Morris. The bird foreground is a victim of an infamous early seventies San Francisco Bay oil spill.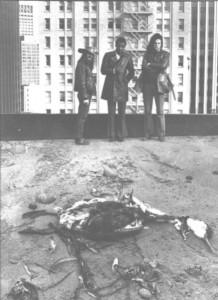 Travel Savvy Radio: Peter Laufer was engaged by Travel Savvy editorial director Steven Schragis to develop radio programming based on the content and philosophy of Travel Savvy magazine. On the eve of their project, the magazine's owner, Sidney Frank, the founder of the Grey Goose vodka phenomenon, died and the magazine immediately was sold by Frank's heirs. About Peter Laufer's radio skills, Schragis — of Spy magazine, the Learning Annex, and One Day University fame — praises him without reservation, saying, "He could make a show about doorknobs compelling and impossible to tune out."
Other Radio Work: When Peter Laufer filled in for "Sunday Salon" host Larry Bensky on KPFA in Berkeley, talking about immigration and language the audience response was nonstop. To listen to the show, go to the radio station's archives.
When Bensky retired, Laufer became anchor of the venerable KPFA Sunday current affairs program, a show he later moved to Green 960 in San Francisco, and then on to KOWS in Sonoma County.  It then aired Saturday mornings on Newsradio 1120 KPNW in Eugene, just down the street from the University of Oregon where Laufer teaches a course in talk radio analysis, criticism, and practice. Laufer used the KPNW signal for a few months to introduce himself to Eugene.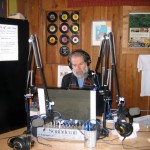 Laufer at the anchor desk of the old KOWS studio.